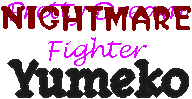 Nightmare Fighter Yumeko's queue is open! Email me to sign up!
---
Nightmare Fighter Yumeko News
3/1/04: Chapter 14! Season 3 starts out with Dream Realm weirdness!
---
---

Nightmare Fighter Yumeko ("NFY") is the story of young women thrust into a conflict they do not understand (at least at first), fought between entities from the hoary legends of old. Yet they do not exist in a vacuum; the heroines must deal with their friends and family while venturing ever deeper into the occult realms. It is a gloomy reflection of "magical girl" shows like Sailor Moon and Nurse Angel Ririka SOS. As the characters learn more, more questions appear; the reader who remarks upon strange details will be rewarded. The answer lies in dreams...
---
Extra Stuff
Chapter Summaries and Character Guide (Now complete up to chapter 6)
Nightmare Fighter Yumeko Mailing List
More Yumeko fanart by Lady Chaos (with the old URL)
Nightmare Fighter John #4 by Ardweden
---
Questions? Comments? Rants? Raves? Submissions? Begging? Death threats? Sexual favors? If it has something to do with this site, email me.
---