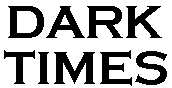 ---

Dark Times is a post-apocalyptic psychic sci-fi samurai epic. Basically it's a whole bunch of stuff thrown together in a dark sci-fi setting.
Extra Stuff
Chapter Summaries and Character Guide
---
Questions? Comments? Rants? Raves? Submissions? Begging? Death threats? Sexual favors? If it has something to do with this site, email me.
---